Schilderijen restauratie Amsterdam
Restaurator van Schilderijen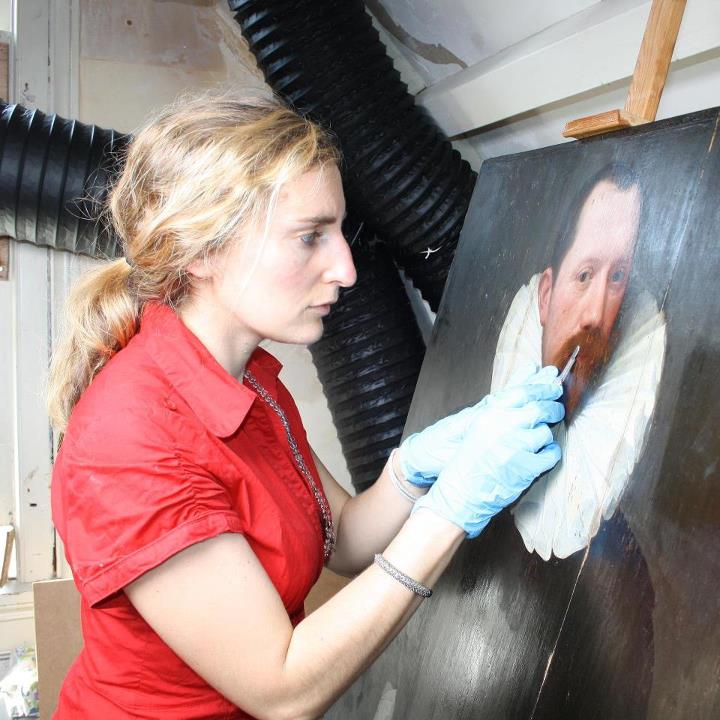 Coming from artistic French milieu, Rachel's professional formation began in Italy in 1996, where she studied at the Università Intemazionale delle Arti (UIA) in Florence. Surrounded by the world's greatest art pieces, she received a high standard education in the art of restoration, specializing herself in paintings (canvas, wood and copper), as well as frescos and murals. In Italy she participated in several restoration projects at the cloister Museo Santa Maria Novella and other musea in Florence, where Alessandro Allori's fresco's were trusted to her knowledgeable and skilled hands. Her international orientation and love for travel brought her to Mexico, where she worked in the restoration department of the capital's Museo Nacional de Antropologia e Historia, and thereafter Berlin, where she applied herself to the recovery of Russian icons.
Eventually, her path lead her to live between Amsterdam and Lausanne, where she got the chance to work with many masterpieces (Breitner, Isaac Israels,) and ceilings paintings of Gerard de Lairesse, Jacob de Wit, and many others. Here she continues to collaborate with many galleries, art dealers and other restorers, making Amsterdam a solid and fruitful base for past, present and future work.
Werkzaam vanaf 1998.
Contact
Rachel Houssin
Bloemgracht
1015 TV Amsterdam
Mobiel: +31.611117031
Email: Dit e-mailadres wordt beveiligd tegen spambots. JavaScript dient ingeschakeld te zijn om het te bekijken.
Website: