Guido, antiekrestauratie en meubel op maat, Dieverbrug
Furniture restoration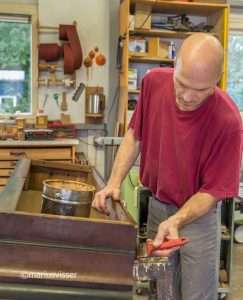 For more than twenty years I have been a furniture maker with heart and soul. Working with wood is my passion since I came into contact with woodworking through musical instruments. I have not let go since then. In 1997 I started my company in Diever. Since 2006 I have my workshop on a beautiful small-scale business park in Dieverbrug.
Antique restoration
Part of my work consists of restoring antique furniture, using as much as possible the original materials and techniques, such as woodcarving, veneering and polishing. With respect I then recognize the hand of the furniture maker of yesteryear and I see with how much love and passion a piece of furniture is made. I want to show that by the restoration. Even old cars often contain wooden parts that need to be restored or imitated. I think it's great to be able to do that.
Tailor-made furniture
In addition to restoring antique furniture, I am concerned with the design, design and manufacture of custom-made traditional furniture, from modern to classic. I use the most sustainable methods and ecologically responsible materials. Often I work on behalf of the customer on request, but if I am honest, I think it's fun to think up and realize your own designs.
Contact
Guido Bouwhuis
De Wringen 21
7984NL Dieverbrug
Phone: 0521594249
Email: This email address is being protected from spambots. You need JavaScript enabled to view it.
Website