Max-meubelrestauratie
Furniture restoration and upholstery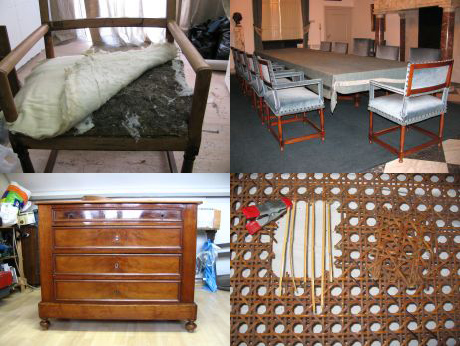 Max furniture restoration specializes in upholstery and restoration of (wooden) furniture and objects.
The company is located in Voorschoten, near Leiden.
I got my passion for the material wood from my father who was a furniture maker in Berlin. During an internship in the Netherlands, I decided to settle here. I have completed a business education for furniture restorers and gained a lot of practical experience at a traditional family business in Maastricht. There I also got the chance to master the upholsterer subject. This allows me to completely "restore" a piece of furniture from the wood to the upholstery. I strive to broaden my knowledge and have followed several courses in the area of ​​surface treatment of historical furniture, the preservation and management of historical interior and the influence of climatic conditions on cultural-historical objects. In addition to my work as a restorer, I provide the historic interior of the Rijnlandshuis for the Hoogheemraadschap van Rijnland in Leiden.
Contact
Carola Max
Rembrandtlaan 202
2251 HD Voorschoten
Tel: 06-13174362
Email: This email address is being protected from spambots. You need JavaScript enabled to view it.
Website