Ubald Elshuis Houtsnijwerken, Maarn
Woodcarvings, wooden objects and furniture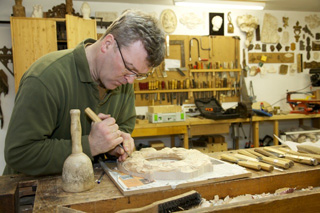 Met vakkundig houtsnijwerk kunnen gevels, lijsten, sierwerken, meubelornamenten en andere beeldhouwwerken, kortom alles wat van hout gemaakt is,dus ook meubelen en betimmeringen weer tot nieuw gemaakt worden. Hout is mooi materiaal en kan mooi blijven.

Naast het uitvoeren van nieuwe opdrachten en het maken van eigen ontwerpen restaureer ik voorwerpen die schade hebben geleden of aangetast zijn (door de tijd). In overleg met de opdrachtgever komen we tot een gedegen plan van aanpak. Dit kan variëren tussen erkende conserveringstechnieken of ambachtelijk herstellen met behulp van nieuw houtsnijwerk.

Ik vind het heel belangrijk dat het oorspronkelijke karakter van het object gewaarborgd blijf.
Contact
Workshop
Maarsbergseweg 69
3931 JG Woudenberg
Post
Driespronglaan 23
3951 VJ Maarn
Phone
0612079791
Ubald Elshuis Houtsnijwerk
Maarnse Grindweg 12F
3951 LK Maarn
Tel. 0343-441041 / 06-12079791
E-mail: This email address is being protected from spambots. You need JavaScript enabled to view it.
Website