Douwes Fine art in Amsterdam & Douwes Atelier in Harmelen
Restorer of paintings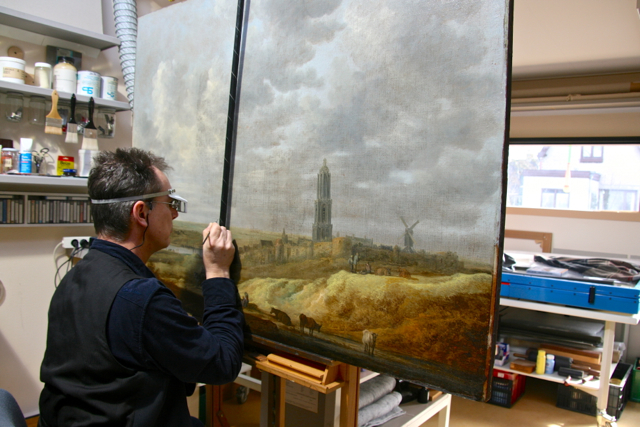 Photo: Retouching work on a large 'Jan Van Goyen', 'View of Rhenen'.
More than 40 years of experience and 6 generations of know-how have made Erick Douwes an all-round restorer of paintings. His speciality is risky cleaning projects and difficult bedcloths. "It is always a surprise to see how paintings come to life authentically when dirt and yellowed varnish have been removed.

Together with colleague J. Kamphuis and freelance conservator K. Eij he forms a close-knit team at Douwes Restauratie that will carry out restorations for you with expertise and pleasure. "I may say that I have become a specialist. The thousands of paintings that have gone through my hands, the great variety in restorations that I have carried out over the years, have shaped me into the craftsman I am."

Erick is chairman of A.R.A. Nederland and closely involved in the establishment of the renewed Restoration Register in the Netherlands. He also has a studio in Harmelen, located between Utrecht and Woerden.
Contact
Erick Douwes
Douwes Fine Art
Douwes Restoration
Hollandsekade 15
1391 JD Abcoude
06.53383894
This email address is being protected from spambots. You need JavaScript enabled to view it.