Kunstrestauratie Galatea, Genk (B)
Paper, frames, gold leaf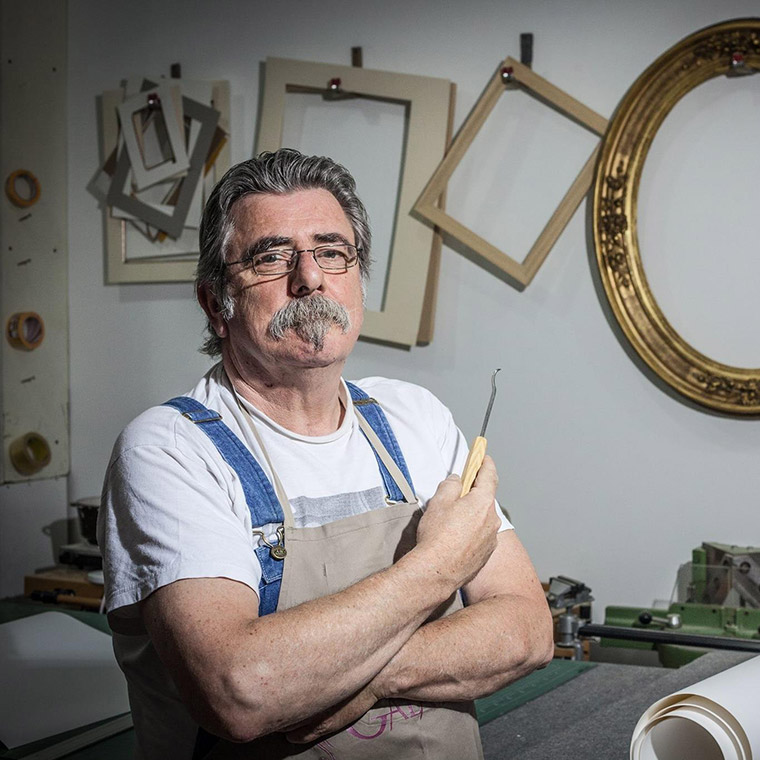 Marc Sterken, Meester Inlijster-Vergulder, studied at the Academy of Visual Arts in St-Truiden. There he studied Plastic Drawing and pastel and charcoal techniques under the guidance of Frans Smets and Raoul Chanet. He also studied painting under the direction of Arthur Renson, Georges Francis, Ri Coeme and Oscar Poelmans. He qualified himself in traditional framing gilding under the direction of Paul Wuyts, and also in the restoration of historical paper under Ir. Etienne Mahieu. Finally, Marc Sterken studied the classical 18th century gold leaf techniques with Maître-Doreur Antoine Palomares, in Versailles.
Marc Sterken is also a regular lecturer in framing gold at the training centre in Tongeren. So you can benefit from his training and experience to restore, conserve and frame your work of art. His specialities as a framer are handcrafted passe-partout-decorations, such as French Biseau & Lavis, and personal cartouches.
Finally, Marc Sterken is also the proud holder of Approved Craftsmanship.
"You have obtained from the Federal Public Service the recognition ACKNOWLEDGING AMBACHT to distinguish you as a Craftsman in the sector of your activity".
Contact
Kunstrestauratie Galatea
Gielisdries 21
Genk
Belgium
Phone: 0496602227
Email: This email address is being protected from spambots. You need JavaScript enabled to view it.
Website