Anoek Artistiek, Utrecht
Restoration and decoration painting in historical spaces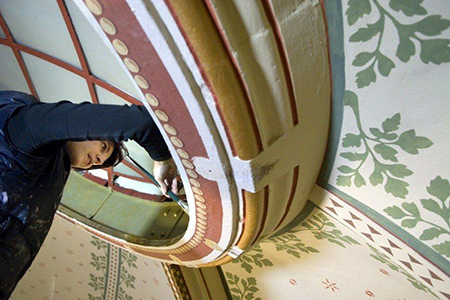 Anoek Artistiek stands for professionalism and creativity. Expertise in the restoration of paintwork and the application of various imitation techniques. Creativity in designing and applying (new) contemporary decorations.
Anoek Artistiek collaborates with skilled plasterers, colour-historical researchers, painting restorers and painters. In this way, a total offer is possible and professionalism is guaranteed.
Anoek Artistiek has carried out assignments for many individuals and companies. For example, decorations and restorations in people's homes. But also assignments for contractors, restaurants, painting companies and large restoration companies. Some of the locations that have been worked on with pride are the Peace Palace and the building of the Lower House.
Contact
Anouk de Wit
Emmy van Lokhorststraat 36
3544 HM Utrecht
06-48460585
This email address is being protected from spambots. You need JavaScript enabled to view it.