TastyMouse webdesign, Amsterdam
Webdesigner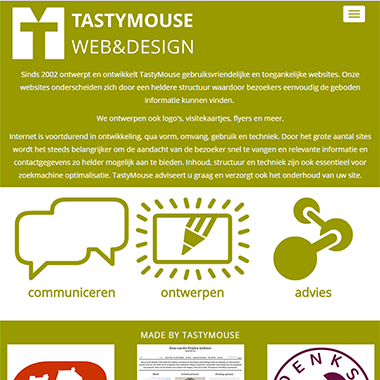 Tasty Mouse creates user-friendly and accessible websites. These sites are characterized by a clear structure so visitors can easily find the information.
Because most clients want to maintain the content of their website themselves, most sites use a Content Management System. Tasty Mouse chooses the simple, powerful and widely used systems Joomla! and Wordpress.
But we also like to help customers who just want a page with contact information.

TOON JE WERK (SHOW YOUR WORK) is our new brand, here we offer websites with Content management System, hosting and technical maintenance for a modest price.

Many of the clients are working in creative professions and small-scale service providers.
Contact
Tom van Teijlingen
Derde Kostverlorenkade 35,
1054 TS Amsterdam
Tel. 06.41874696
E-mail: This email address is being protected from spambots. You need JavaScript enabled to view it.
Websites