Het mooie werk, Amsterdam
Restoration painter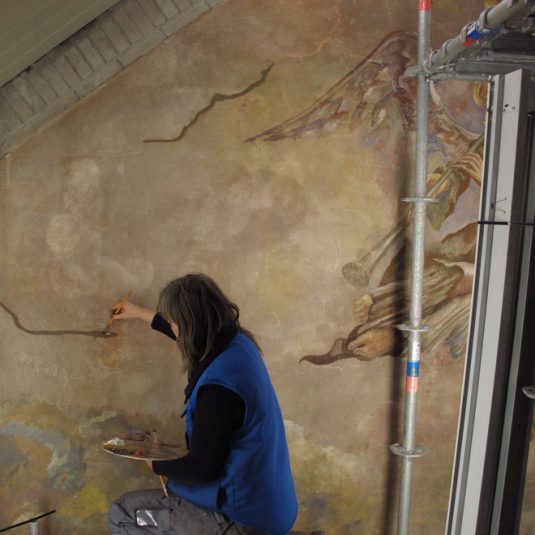 In the past, the painter's profession was a versatile craft. The painter made his own paints, performed all the usual painting work and also all the beautiful work. He was a house painter, decorative painter, decorative painter, fine painter, designer, restorer, inventor and performer all in one. He gilded the tower globe and weather vane on the church with double tower gold leaf. In period rooms he decorated the wooden paneling with bold colored paints and painted a transparent blue wood impression on the floor. He painted church doors and pews with imitation oak or mahogany imitation and decorated the outside of organ cases with marble imitation.
In canal houses and country houses, the paneling of the stairwell was also marbled according to the latest fashion and richly carved wooden stair gates were decorated with a dark red wood. Later he also designed billboards and put letters on cafe windows as well as on the mayor's front door. He restored paintwork that his predecessors had applied to national monuments, monuments, period rooms, museums, churches, palaces, country houses, country houses and canal houses.
I am that painter from the past who can do everything. Performing specialist painting techniques such as painted wood and marble imitations, gold leaf gilding, patination, monumental painting. Paintwork in historical topcoats, wall paints, silicate paints, oil paints and homemade paints. Doing a color inventory or a quick scan. Writing specialist painters' specifications, long-term maintenance and conservation advice and report. Supervising restoration painting work as a consultant, project manager or inspector.
Contact
Hannie de Keijzer
Palmgracht, 10e
1015 hm Amsterdam
phone.: 0650565382
E-mail: This email address is being protected from spambots. You need JavaScript enabled to view it.
Website